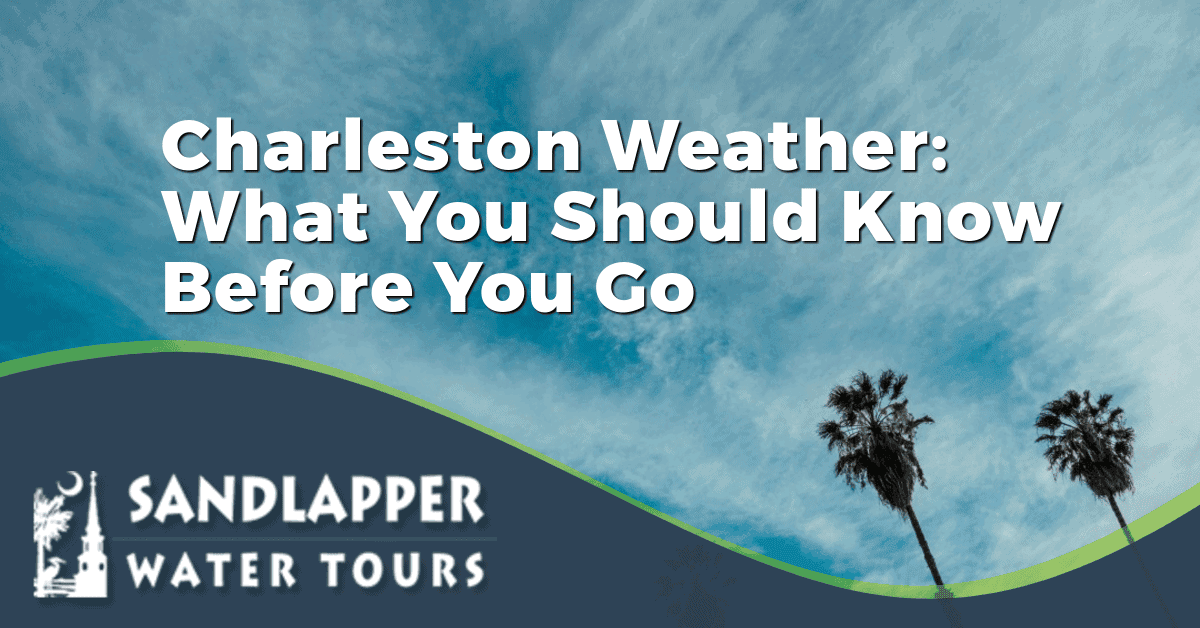 If you don't like the weather in Charleston, just wait 15 minutes. Like many Southern cities, Charleston weather can change drastically from one day to the next, and even from morning to evening. So, if you're planning a visit to the Charleston area, you'll want to pack for your trip with flexibility comfort in mind, shoes included.
It's a beautiful city, but there are aspects about the weather to consider before you go.
How to Pack for Charleston Weather + Conditions
Warm Weather Clothes
You'll see the casual, informal look all over the city to combat the high humidity. Air circulates freely when you wear loose cotton, linen and blended clothing. A lightweight jacket that doubles as rain gear will prepare you in the event of an unexpected drop in temperatures from a rain shower.
Charleston lies on the outer coastal plain of the Atlantic. The summertime sea breezes increase the humidity that triggers afternoon rain showers and they moderate afternoon highs. Even though it's in the South, Charleston averages just 30 days over 90 degrees F, while Savannah, GA averages 69 and Jacksonville, FL 80.
Everything in Charleston is air conditioned, so when it's time to cool off or stay dry, relief is as close as the nearest eatery or shop, of which there are many on King Street and the Charleston City Market.
Unless you buy them shopping in Charleston, leave the high heels at home. Charleston's historical districts are paved with cobblestones, which makes wearing anything but flat shoes a challenge. When your feet do get tired, you could always catch a ride on a horse-drawn carriage to get from point A to B while touring parts of old Charleston or learning about the Civil War where some of it actually happened.
If a trip to the beaches is on your Charleston bucket list, bring sandals, flip-flops, or water shoes. The sand gets incredibly hot. In fact, Charleston's beach sands receive the same amount of solar radiation that the scorching hot deserts of the southwest do. Going barefoot or walking in thin-soled shoes in the summer on the beaches will be uncomfortable.
Summertime Basics to Bring Along
Beach visit or not, you do need sunscreen to protect against sunburn or overexposure. An SPF of 25 applied before you head outdoors will prevent UV damage. If you're exerting yourself or swimming, reapply it every few hours. And don't forget a hat and sunglasses to protect your eyes, too!
Charleston's landscape is lush and it has a long growing season. If you have allergies, check the pollen counts on your favorite weather app and bring any allergy relief medications you may need. The bugs like it here too, so either bring mosquito repellant or pick some up after arriving.
Winter Wear
Because of the ocean influence, Charleston's winter temperatures are moderate, although a winter storm in early January 2018 dumped over five inches of snow and ice in Charleston. While such weather is far from common in this area, wide temperature swings aren't. A review of day-to-day temperatures in Charleston during the cold months shows teeter-totter swings in highs and lows.
Even so, by most measures Charleston has mild winter weather with average highs in the 50s and 60s and lows in the high 30s and 40s. January is the coldest month, but by April, temperatures bounce back into the 70s and drop to the 50s overnight. Bring along clothes you can layer to stay comfortable day and night.
Enjoy Your Stay
Our beautiful city offers much to do, indoors and out. It has an inviting year-round climate and so much historical significance. Dressing for the climate and local conditions will help you get the most from your stay.
Want to learn more about Charleston's unique culture? Experience it first-hand with Sandlapper. Schedule your tour today.