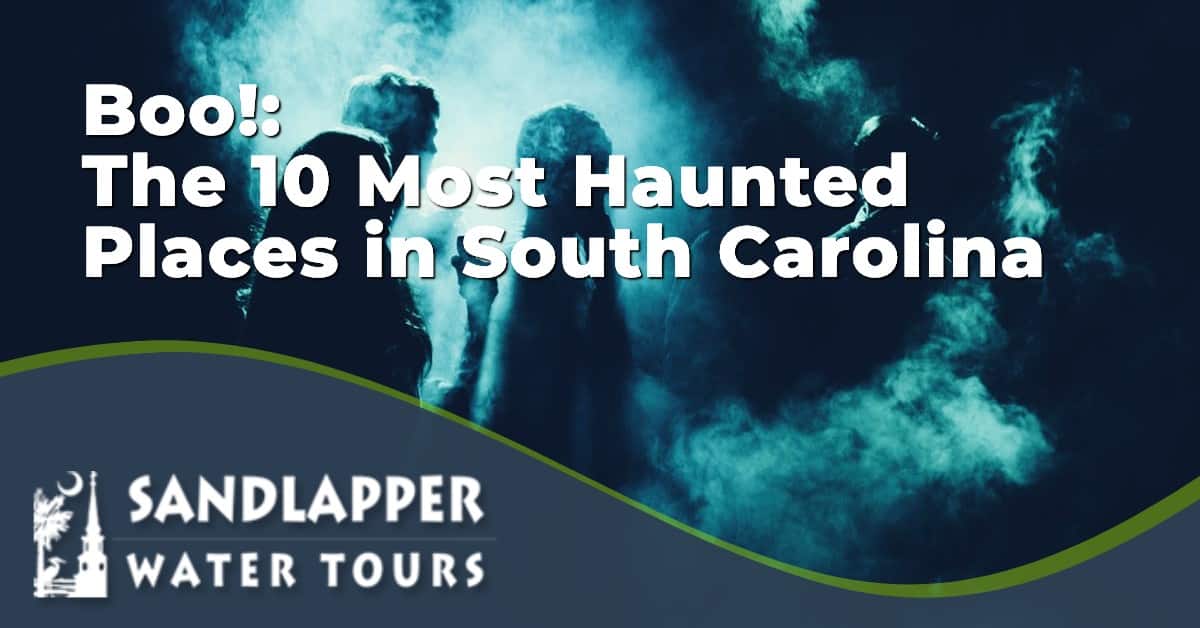 Do your tastes run a little darker?
Do you like being scared, just a little?
How about a little more?
South Carolina is famous for its centuries of history. There are is an array of colorful characters in the past. It's not surprising that some of those characters don't want to leave.
South Carolina is home to many unseen spirits, lost souls and creepy coincidences. What specters linger among the streets, byways, and buildings? The better question is, what are their stories?
Read on for the most haunted places in South Carolina.
Is It Haunted?
"Is it haunted?" may be the most popular question to ask a tour guide in South Carolina. It certainly ranks with "Where is the bathroom?" and "Were there any famous Civil War generals here?" as important and interesting information on a quality tour.
The ten spots on our list are frequently active. Paranormal investigators regularly use different kinds of cameras, electromagnetic field meters and more trying to document these sites.
So grab your camera and smelling salts.
Is a Ghost a Who or a What?
This is a point of much debate. Are we talking about the ghostly Mrs. Jones wandering the drawing room? Or the flickering lights and chilly drafts in the lighthouse?
Visitors to #10 on our list of our haunted places in South Carolina will find the University of South Carolina original campus a real chiller. Observers report lights that move about overnight in the library, sudden cold spots, and doors that open. Could it be a past university president?
The DeSaussure dorm on campus is reportedly the home of a female apparition with long, dark hair and the rowdy soldiers she murdered. Several residents have reported seeing her and hearing unexplained noises.
In the meantime, USC's Longstreet Theatre spooks people out with elevators that open and close of their own accord, sudden cold spots, and an inexplicable sense of unease. The theatre was used as a morgue during the civil war.
What or who is haunting the old campus?
Some the Most Haunted Places in South Carolina Are Hotels
There are several hotels on the top ten list. You can room with apparitions and give them a good scare!
Charming Lyman, SC is the home to #9 on the list. Walnut Lane Inn is famous for its lingering guests. Two or three ghostly figures take up residence in the hotel. One is a shapeless man that seems to favor the kitchen.
There is another figure on the stairs, described as a woman wearing dark skirts. She is blamed for the crooked pictures and lampshades. Then there's the voice heard outside. Dogs bark like someone is there, but there is never anything to see.
Lay Your Head Down If You Dare
Embassy Suites have a reputation for clean, modern rooms and lovely interior courtyards. But our #8 most haunted places in South Carolina is the Embassy Suites in Greenville, SC. Employees and guests report lights will turn on and off at will, and doors fling open and close on their own.
During construction, the power was shut off. There were still lights turning on and off. Golfers hear eerie wailing and find odd patches where grass won't grow at all.
Pawleys Island Specters
Pawleys Island, SC is #7 on the list. A few prominent ghosts haunt the area. Most famous is the Gray Man, but there are several others.
The Gray Man
The Gray Man wanders the beach area to warn of impending storms. His story is that he was a man traveling to see his fiancee.
On the way, his horse sunk into mud in the marshes of Pawleys Island. He died and his spirit is still searching for the girl he loved. Dressed in gray, from his long coat and scarf to shoes, the Gray Man has appeared since 1822. His last sighting was right before Hurricane Florence in 2018.
Some ghost hunters claim to have captured the Gray Man on video during the hurricane. The stands on the pier or floats on the waves just as the storm begins.
Poor Alice Flagg
The ghost of Alice Flagg, wanders around her grave searching for her ring. Poor Alice was a young woman from a wealthy family who fell in love with a poor suitor. Once discovered, Alice's guardian sent her away to Charleston.
Alice took ill with fever and returned home. Her guardian found her engagement ring on a ribbon around her neck. He tore it away in a  fit of temper and threw the ring into the marsh.
Alice grew sicker and died.  She is buried in the Waccamaw Cemetery. Her marker is a plain, white stone with just her first name, "Alice."
Her ghost is said to be clad in her white burial dress and she is seen near her grave and in the nearby marsh looking for her ring. People leave small gifts for Alice, she seems to favor round things.
Pelican Inn's Woman and Dogs
Another ghost is Pelican Inn's. She is female and prefers to supervise the kitchen. She appears in an old-fashioned gingham dress and appears solid. She goes about her day, undisturbed by guests or the current wall layout.
Some visitors report hearing dogs at Pelican Inn, where there are none. The ghostly terriers belonged to an old caretaker. One dog drowned trying to rescue a drowning boy, the other died of loneliness afterward.
Don't Bring Electronics to This Final Resting Place
Oakwood Cemetery in Spartanburg makes the list as #6. Unofficially known as "Hell's Gate", it is one of the most active haunted locations in South Carolina. Electronic equipment has no chance in the area.
A common experience for visitors is that mobile phones act oddly in the cemetery. Phones ring and no one is there. Or even more mysterious, the phone rings and when you answer it's a busy signal.
Full batteries are suddenly without a charge. Sometimes there is an echo of small children laughing or a low whisper on the phone. Camera operators report odd video captures too.
Visitors after dark don't need any special electronics to experience the ground-hugging mist or feelings of unease that fill the place.
Not Resting In Peace
White Point Garden in Charleston is on the list at #5. Pirates, legends, and battles make White Point Garden and Battery Park a lovely and educational place to visit during the daytime. After dark visitors swear they sometimes see the ghostly faces and bodies of the 49 pirates hanged there in the trees.
Stede Bonnet and his men met their deaths by hanging in White Point. These pirates blockaded the Charleston port in 1718 before being defeated by a group of local merchant ships. Once captured and tried, the men were quickly executed.
After hanging, the men's bodies were cut down and thrown into the marsh. Captain Bonnet had time to attempt an escape. He made it out of prison dressed as a woman, but was recaptured.
He was hanged on December 10, 1718. His body was also cut down and tossed into the marsh. Legend has it that you can hear terrifying screams echoing at midnight. Also, if you stand near Water Street and look down, you might see the bloated white faces of the executed pirates staring back.
Are You a Lunatic?
#4  featured on the list formerly housed the troubled souls of the past. The South Carolina Lunatic Asylum in Columbia housed nearly 5000 patients at a time at its peak.  From the 1800s to the 1970s, people with mental illnesses were confined to its walls.
A regimen of near starvation, ice cold baths, electroshock, and lobotomies ensured that there are plenty of pain and suffering floating around. All that of residual negative energy manifests as unexplained cold spots, strange hospital noises, and disembodied voices.
"Bull Street", as locals call it, was also the site of a Civil War hospital and many Civil War dead are thought to be buried on the grounds as well.
Just Ask Bubba
The South Carolina State Museum in Columbia is #3 on the list. A former textile mill, the building now houses the State Museum. Ghost "Bubba" is supposedly the spirit of a worker decapitated in an industrial elevator shaft.
His overalls-clad apparition is often spotted up on the fourth floor of the museum. Some people have even claimed to ride the elevator with him. He steps into the elevator, but when he exits, he walks down the hall and disappears into the wall.
He sometimes appears as a solid full body and sometimes as just boots and partial legs.
Look for the Lady in Red
Charleston's Dock Street Theatre ghosts are #2 on the list. A lady in red and a man in 19th-century clothing make their appearances there. Other ghostly shadow actors and audience members are seen regularly.
One of the two regular apparitions is thought to be an actor unwilling to leave the stage. Sometimes people call him the ghost of Junius Booth, the father of John Wilkes Booth. There is no real link between Booth and the theatre, though.
However, the ghost in the red dress is thought to be Nellie Dickerson. In Nellie's time, the building was the Planter's Hotel and Nellie was a lady of the night who was a frequent visitor. Legend has it that she wore a bright red dress to the hotel on the night that she died.
On the evening that fate struck, she was walking across a balcony during a fierce storm. A bolt of lightning ended her life. Her ghost still walks through the building rattling doors and moving items around.
The Old Charleston City Jail
The Old Charleston City Jail is at the top of many lists, including the #1 spot in this one. The building was constructed in 1802 and served as the county jail until 1939. Many prisoners died there over the years.
Ghosts of many colorful characters linger in the jail. There is a young errand runner for the wardens who was accidentally shot. There is a madman warden whose keys jingle. And let's not forget the cries and moans of 19th-century pirates, prostitutes, slaves, Civil War prisoners, and thieves.
One of the most famous deaths was that of the first white woman to be hanged in South Carolina. Mrs. Lavinia Fisher and her husband John are accused of murdering many travelers who passed through their hotel. Local sheriff's reports include several disappearances of guests on their premises.
Legend has it she invited lone travelers staying at the hotel to dinner. Then steer the conversation to their occupation to gauge how well off the visitor was. Rich travelers finished their meals and were sent upstairs with a relaxing cup of tea.
The special tea was made of oleander leaves. Later that evening, husband John would check in on the guest to see if they were dead. If not, he would help the process along. The Fishers would then bury the traveler in their basement and help themselves to their goods.
Two almost-victims of the Fishers managed to escape, which is how the Fishers were caught. Since the witnesses weren't murdered, the Fishers were prosecuted as thieves. Due to the enormity of their crimes the Fishers were hanged in 1820.
Mrs. Fisher's last words were supposedly "If you have a message you want to send to hell, give it to me, and I'll carry it!" Visitors still report sightings of her apparition.
Get to Know the Dark Side of South Carolina
Rogues, pirates, bloody crime scenes and more await you. In addition to the important historical facts, wouldn't anyone like diving deep into the world of storytelling and scares? South Carolina is full of secrets and the best tour guides are waiting to spill the goods.
The some most haunted places in South Carolina are right here in Charleston. We can help you find them. Want to learn more? Contact us today!